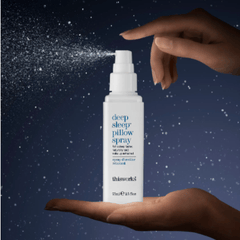 Free Sleep Pillow Spray
During lockdown, many people found that their sleep patterns were impacted and struggled to get a good night's sleep. In a survey conducted with over 1400 of our valued customers, we learned that 54% of respondents had experienced more broken sleep and almost a third of people have found it is taking them longer to fall asleep.
How to enter:
1. Follow our @thisworks account on Instagram and like our giveaway post
2. Upload a photo to your feed of you and a friend or loved one who you think deserves a better night's sleep, tag them and us @thisworks with the hashtag #gettingthenationbacktosleep
3. Fill out the competition form
If you are lucky to be one of the first 5,000 eligible entries, we will send you a full-size deep sleep pillow spray to share with your chosen friend or family member.
CLAIM OFFER