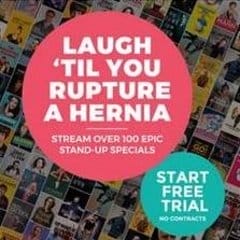 Stream Great Comedy! Free Trial – NextUp!
Stream hundreds of hilarious comedy specials from rising stars and circuit legends with NextUp. Have a Giggle with your friends and family with some of the best comedians and the funniest jokes!
We all need a laugh at this time in our lives. Get a 7 day FREE Trial, then just £57.48 billed annually or £9.99 when you pay per month! Cancel anytime! Join NextUp today and get some of the best medicine in the world. LAUGHTER!
CLAIM OFFER